There are a lot of lists and recommendations for long-distance hiking in Europe that list iconic places like Tour de Mont Blanc in France, The High Tatras on the border of Slovakia and Poland,  or some amazing hikes through Switzerland's National park. But none of them fully present all the HIGHLANDER destinations, routes, and stunning places you will be able to visit on your adventure of a lifetime. Your next hiking adventure and the best hiking in Europe you'll ever experience is yours to choose from.
Hiking in Serbia
HIGHLANDER Stara Planina Serbia takes you on an adventure through Stara Planina Nature Park. You'll get to know the wild, still unexplored mountain and reveal your inner HIGHLANDER on the tracks lived and walked by the people from Stara Planina. Stara Planina (Old Mountain) is the longest mountain range in Serbia. It's located in the southeast of the country and is the western branch of the great mountain Balkan, after which the entire Balkan peninsula got its name. With its wild nature, inaccessible terrains, an abundance of water, and pastures, it is the birthplace of HIGHLANDER-s that lead their lives in harmony with the mountain. Remote stone villages, clean and clear rivers, and streams, endless pastures, diversity of flora and fauna, and hardworking mountain people. The mountain tracks you will walk along a pass through the very heart of the mountain, through far-away mountain tops, valleys hiding fossils from the age of dinosaurs, but also through villages where the last mountain keepers live. That is why HIGHLANDER Serbia is the perfect June multi-day hiking adventure and why hiking on the Old Mountain presents one of the best hikes in Europe. 101 km of HIGHLANDER or 46 km of HIGHLANDER55 await the bravest.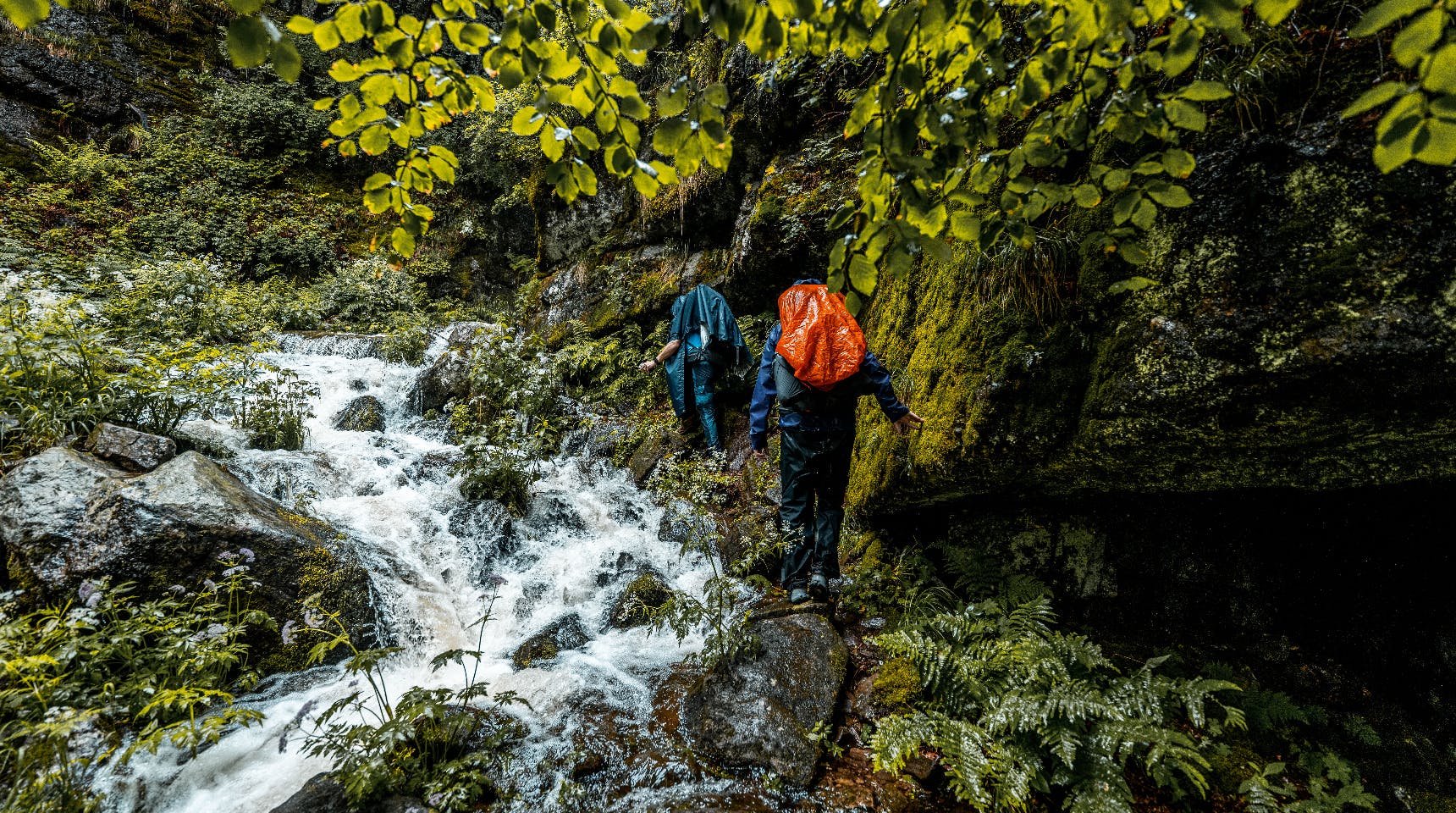 Hiking in Montenegro
HIGHLANDER Durmitor Montenegro takes you on an adventure through UNESCO's World Heritage Durmitor massif. On the trail, you get to cross seven peaks over 2000 m, six glacier lakes, two canyons, over ten natural springs, and an iceberg. All that combined makes this long-distance trail one of the best hikes in Europe. Bobotov Kuk peak, also known as "Rooftop of Montenegro" stands at 2,523 m and is the highest peak in the Durmitor mountain range. It was also deemed the highest point in Montenegro. From there, you will make your way down to the deepest canyon in Europe and the second deepest in the world – the Tara river canyon. With more than 8,000 m of cumulative ascent, HIGHLANDER Durmitor represents arguably, the most challenging HIGHLANDER trail, but the scenery from and around the trail is more than worth the effort. Even though the difficulty level is not easy that 92 km of the HIGHLANDER trail is more than worth it. If you choose HIGHLANDEREXPERIENCE, you will get to see 30 km of Durmitor during the best time for a visit - July. The HIGHLANDEREXPERIENCE route will start from Black Lake - enter Durmitor massif, climb up to an amazing sightseeing spot and overlook "Mountain Eyes"- exquisite glacier lakes surrounded by lush, green woodland, and lead you back to Black Lake.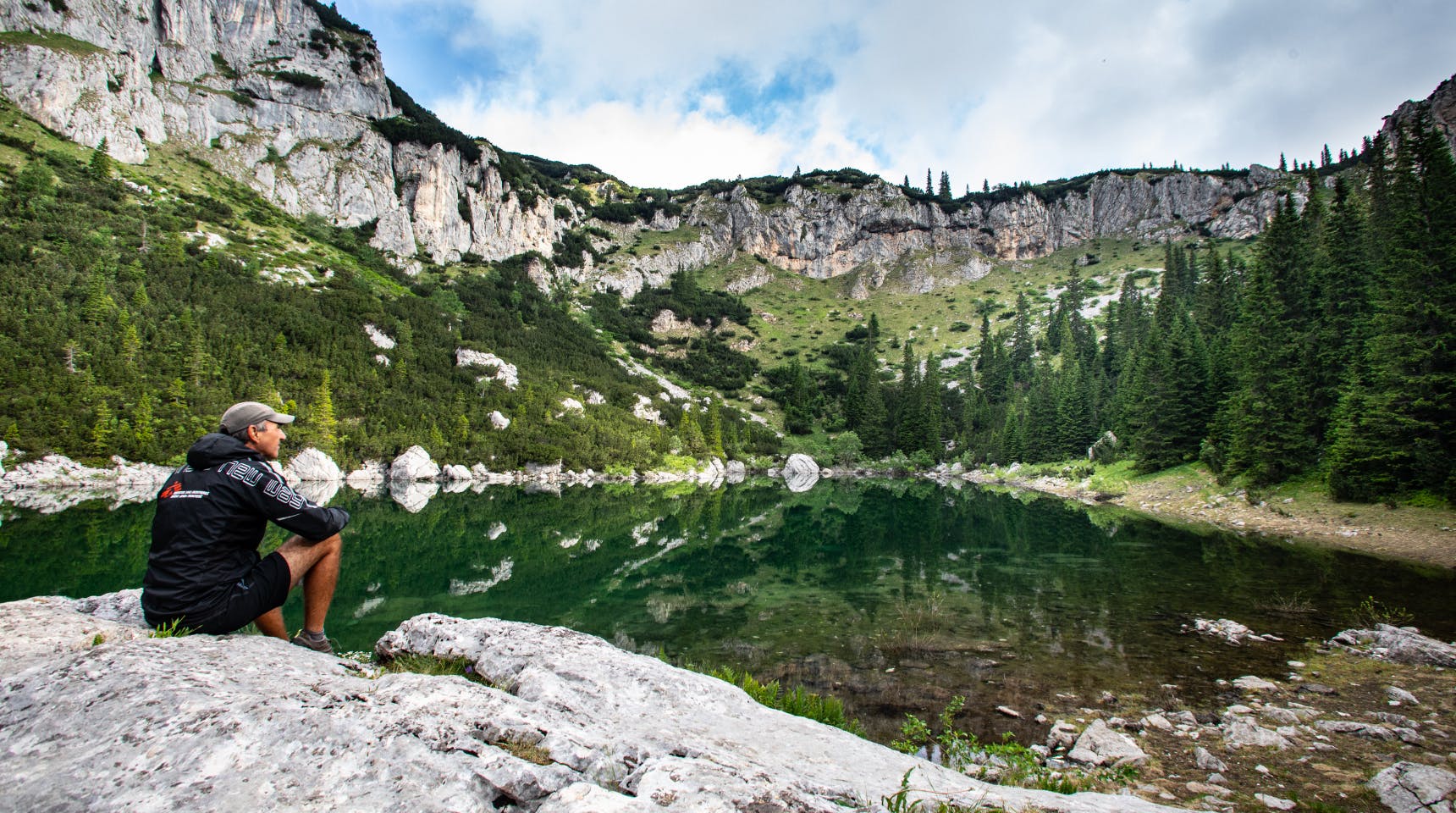 Hiking in Slovenia
HIGHLANDER Julian Alps Slovenia takes you on an adventure through Triglav National Park, one of the best places to visit when thinking about hiking in Europe. Mysterious Bohinj lake will be your starting point. From there, you'll hike on the southern banks of Triglav National park while admiring Slovenia's highest mountains, including Triglav. From starting in an alpine climate, you will slowly enter the sub-mediterranean climate, and you will notice the difference. Towards the end of the hike, you will pass the lively town of Tolmin, Tolmin gorges, cool your feet in ice-cold light blue the Nadiža river, and pass the Napoleon bridge to finish in Kobarid. After you cross the finish line, there's another adventure waiting for you - refreshing yourself in the light blue Soča river. Soča is a wild pearl of the Julian Alps, with crystal clear water (you can even drink), which only has 12 degrees during summer. But the adventure still doesn't stop there; you can return to Bohinj with a train through a railway tunnel, which is just under the mountains, you climbed a couple of days earlier. The natural beauty is the reason why Slovenia is one of the best places for hiking in Europe, and the 101 km long HIGHLANDER Slovenia route presents one of the best European hikes.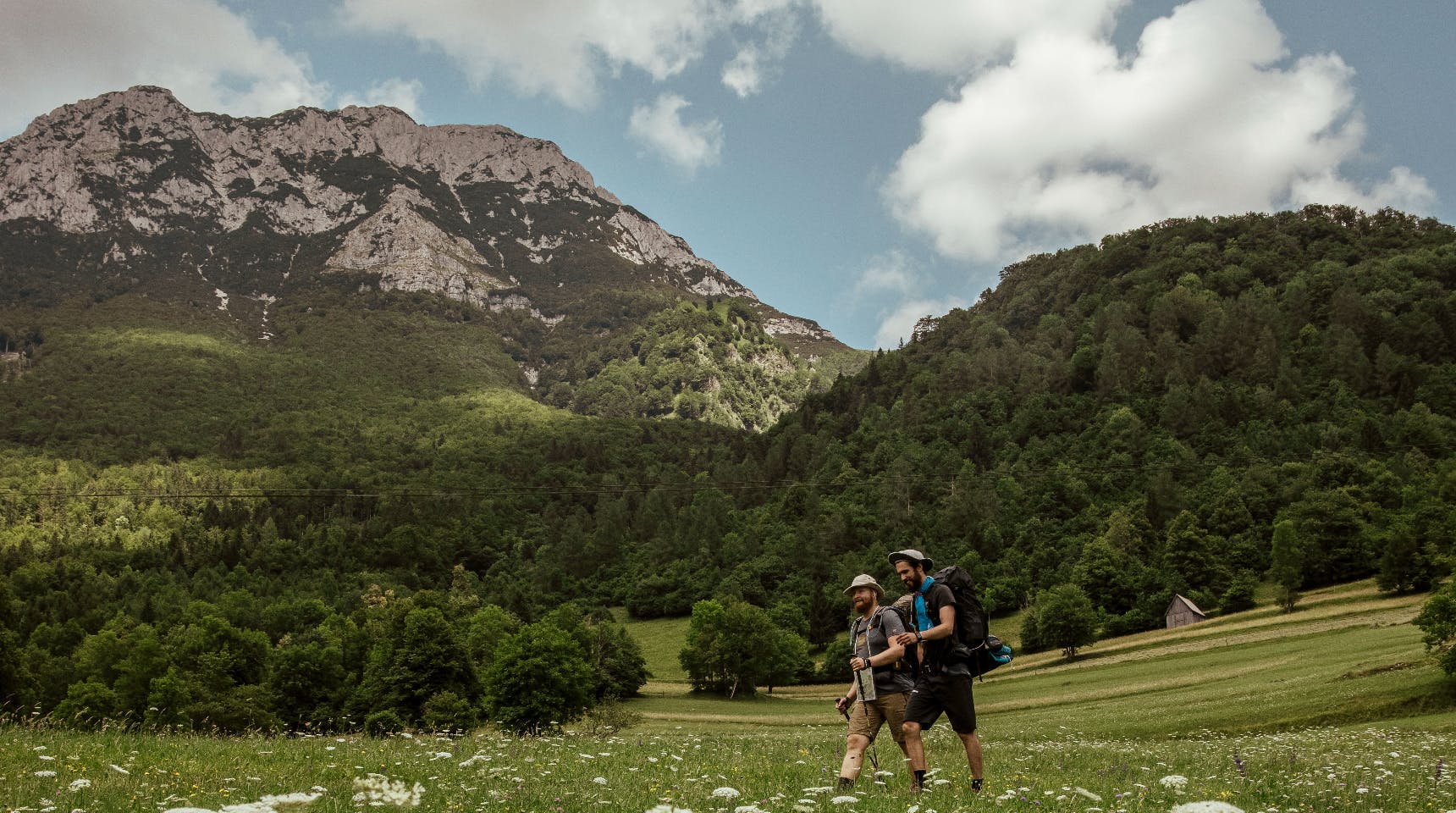 Hiking in Bosnia & Herzegovina
HIGHLANDER Blidinje Bosnia & Herzegovina takes you on an adventure through Nature Park Blidinje. Blidinje Nature Park is located in Bosnia & Herzegovina in the high highlands of the central Dinarides and includes the area of ​​the Čvrsnica and Vran mountain ranges. This area is home to 1500 plant species, of which more than 200 are endemic, including Blidinje lake and Masna Luka. Passing our routes through unspoiled nature, you will reach the highest peak of Čvrsica (Pločno 2228 m). Mount Čvrsnica is the third highest mountain in Bosnia and Herzegovina, located in the northern part of Herzegovina, and is also the mountain with the highest peak in Herzegovina. Masna Luka, the mountain pearl at the foot of mount Čvrsnica, is famous for being the largest habitat of endemic Bosnian pine called "munika".  On the trail, you will reach the most prominent symbol of Blidinje National Park - Hajdučka Vrata or "Rebel's Door". This geomorphological monument of nature is one of the most beautiful lookouts on the local mountains and a place of lore, where legends of the past times were born. Blidinje Nature Park is perfect as one of the best day hikes in Europe so you can join HIGHLANDEREXPERIENCE and hike for 28 km through this stunning area. But if you're looking for long-distance hiking in Europe then the HIGHLANDER format that leads you on a 91 km long hiking adventure of a lifetime is a perfect choice to experience Bosnia & Herzegovina.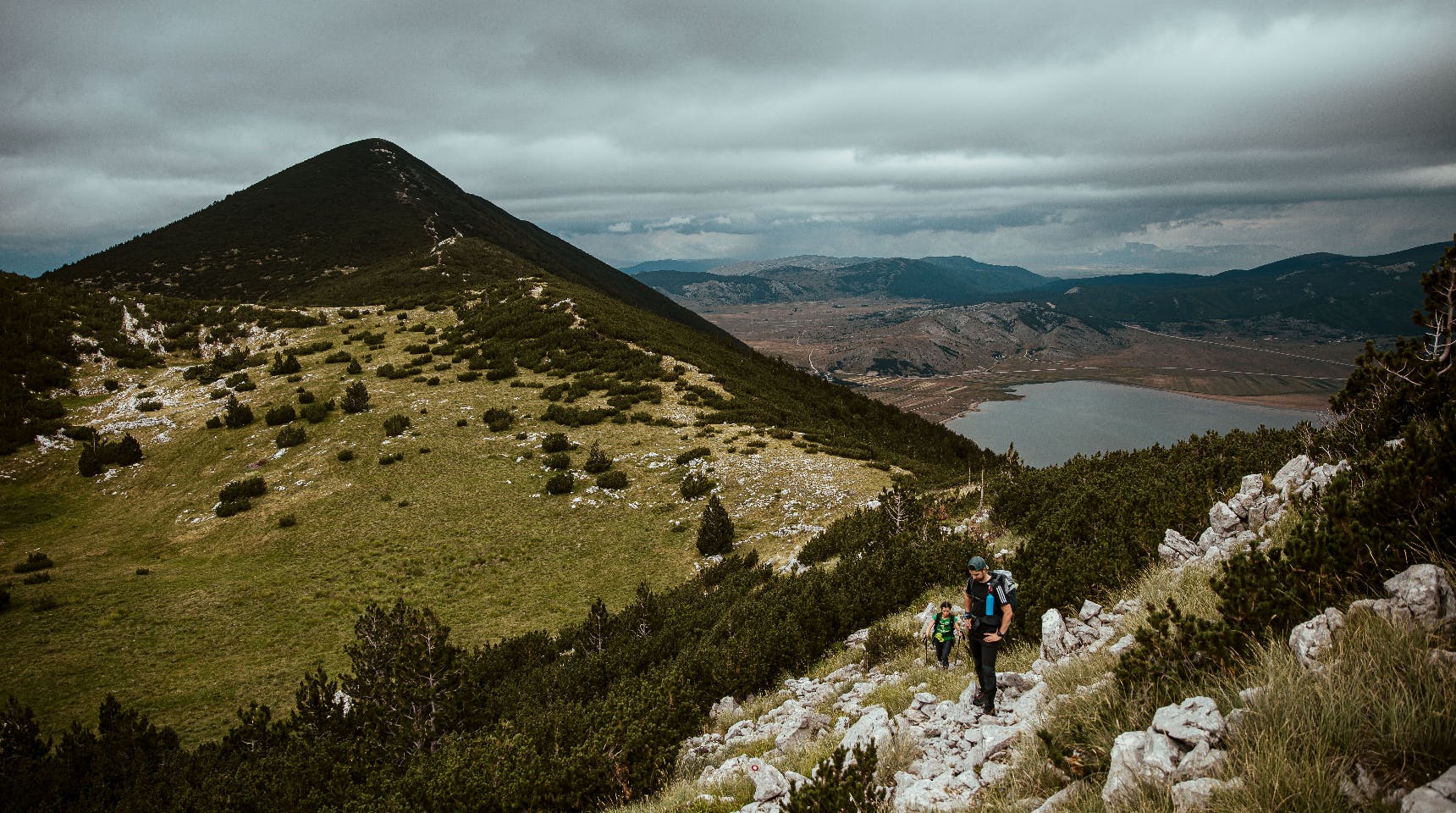 Hiking in Austria
Usually, when we hear hiking in Europe, our first association is France, Italy, Switzerland, but Austria is also one of the best hiking destinations in Europe. HIGHLANDER Murau Austria takes you on an adventure through the Alpine region Murau. You will cross green forests, walkthrough idyllic alpine pastures, and enjoy unforgettable views from the most beautiful mountain peaks in Styria. The start of the HIGHLANDER Murau will take place at the Tonnerhütte/Mühlen. From there you will reach the peak of Zirbitzkogel (2396m high) with its 360-degree panorama from the Karawanken to the Dachstein. The Zirbitzkogel lives up to its title of "most beautiful view mountain of Styria". One of the highlights of HIGHLANDER Murau will be Steinschloss – a medieval castle built in the 12th century. Through your journey, you will pass the Pleschaitz (also known as the "bald mountain") where you will have an amazing view through the whole Murtal. The finish of the HIGHLANDER Murau will be at the famous castle Rothenfels. By arriving at the finish you will have hiked for 103 km in HIGHLANDER format and 27 km in HIGHLANDEREXPERIENCE format. Pristine nature, medieval castles, famous hiking region more than enough for the adventure of a lifetime.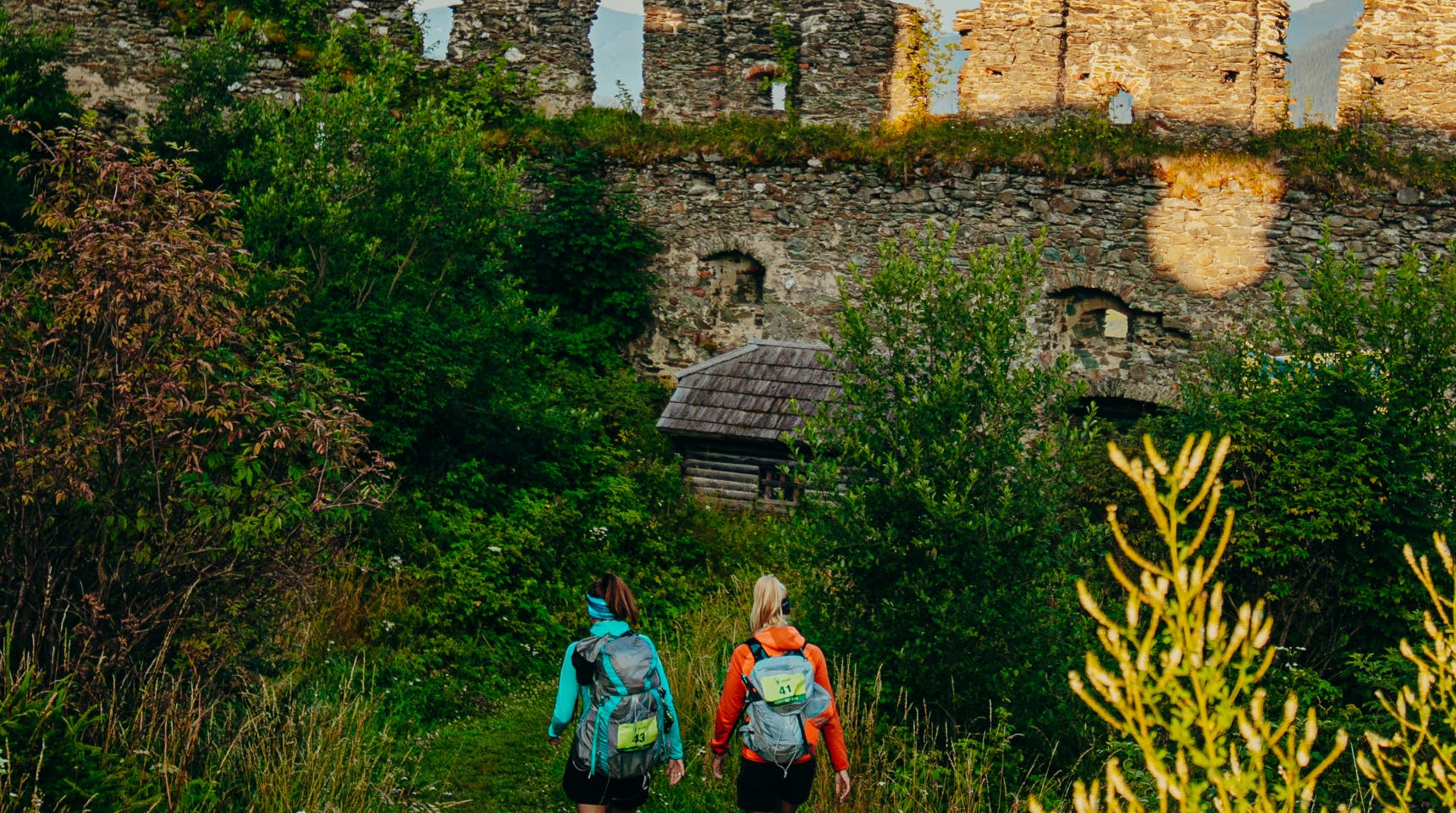 Hiking in Portugal
When talking about hiking in Europe, we have to mention Portugal, but not the staple Seven Hanging Valleys trail, a scenic coastal trail in the Algarve in Portugal. HIGHLANDER Melgaço Portugal takes you on an adventure through Melgaço's mountains and the Peneda-Gerês National Park. HIGHLANDER Melgaço is a unique occasion to discover one of the most amazing regions in Europe: from the banks of the Minho River, in Portugal's Northern edge, defined by the incredible vineyards where the internationally acclaimed Alvarinho Wine is born, to the heart of the mountains, through the highlands of Castro Laboreiro and its megalithic necropolis you will discover the infinite layers of interaction between nature and civilization throughout millennia of local history, with ruins that go back beyond the Roman occupation of the Peninsula, in close contact with the wild local Flora and Fauna, but also a remote and unscathed landscape that will take your breath away. Breathtaking nature, 122 km of pure freedom, and you. Experience the unique region of Portugal and a fresh way to become one with untouched nature and wildlife. HIGHLANDER route will take you from green river valleys to rough granite-shaped mountain landscapes and show you exactly why this trail will become one of the best hiking trails in Europe.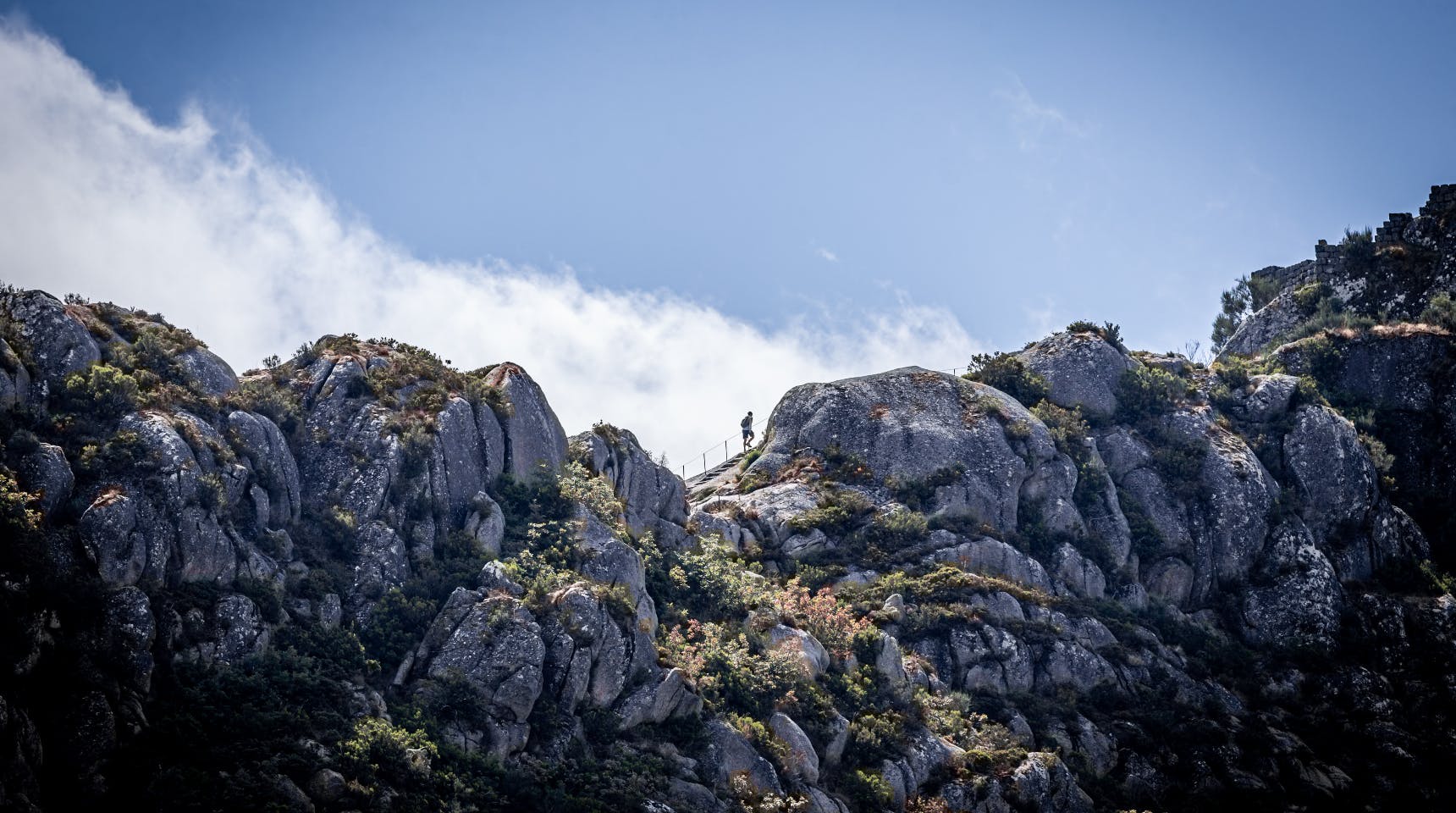 Hiking in North Macedonia
HIGHLANDER Macedonia offers you a unique adventure by visiting the mountain of Jablanica, where the subtropic and Mediterranean climate meets, and you can feel it everywhere in the untouched nature. Mountain is a naturally protected region and offers its visitors a peaceful and pleasant hike. The clean drinking water and a variety of forest fruit make this mountain a perfect destination. The wild tracks that are not yet entirely explored, and the view of the oldest lake in Europe – the Ohrid Lake is what make this place magnificent. The marked routes end on the lakeshore, making it the perfect place to summarize the experience you gained while exploring this marvelous part of North Macedonia. HIGHLANDER Macedonia takes you on a 99 km long adventure that leads you through the beauties of this untouched nature in southwestern Macedonia, passing through four amazing mountain lakes and finishing at the shore of the Ohrid Lake. HIGHLANDER55 will show you the best hiking in Europe through its 60 km long route, and HIGHLANDEREXPERIENCE will make you experience 25 km of mountain Jablanica. This hiking adventure is a harmonious combination of love for nature, hiking, and the desire to make new friends and new extraordinary experiences. What you will undergo and feel on the trail cannot be easily described and must be personally experienced to be remembered as a lifetime adventure of hiking in Europe.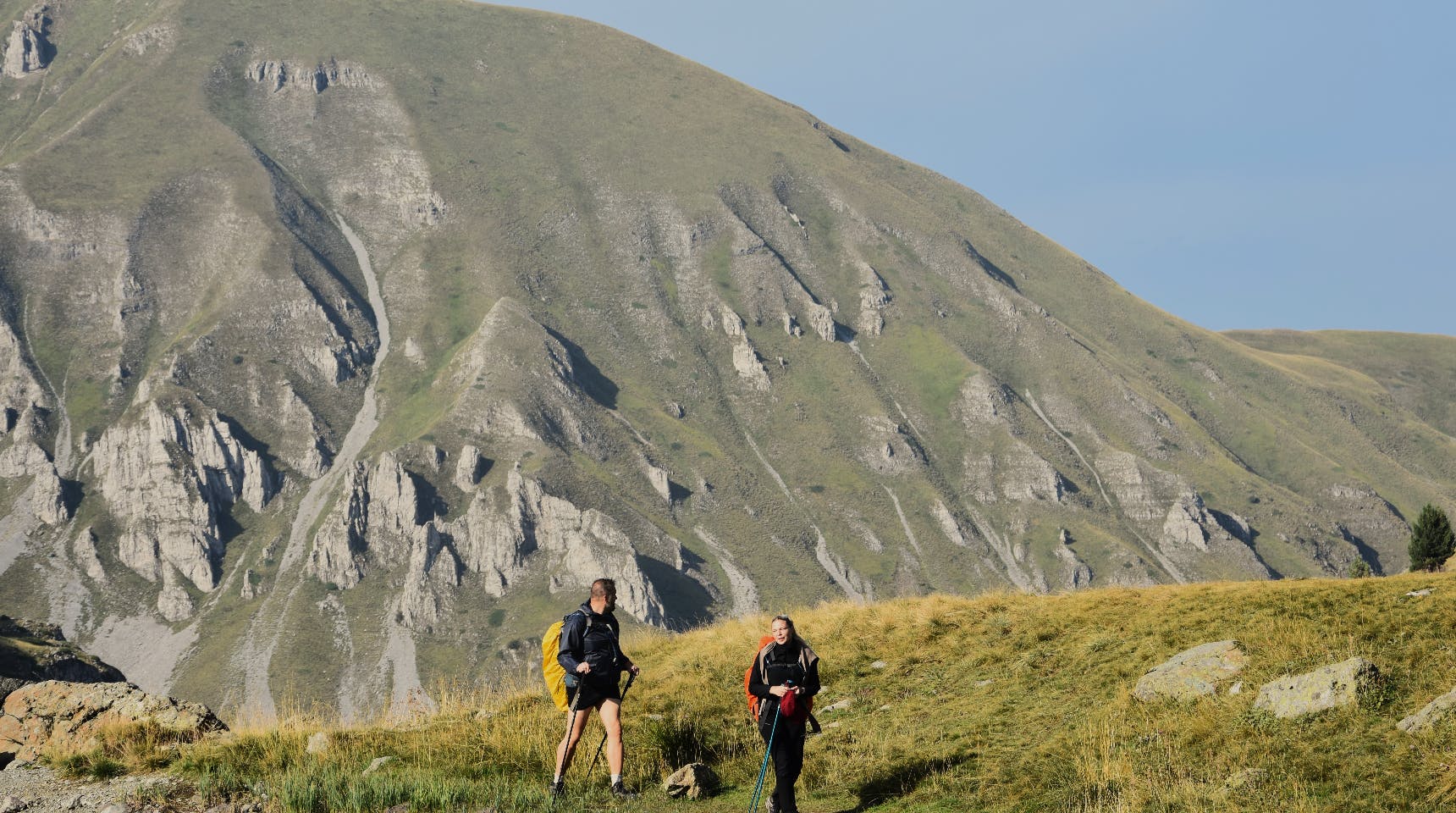 Hiking in Croatia
When you picture Croatia, you mostly see the Mediterranean Sea, beautiful nature, and Plitvice lakes National park, but this is a different side of Croatia, a side that will show you an entirely different National park in Croatia - Northern Velebit. Croatia is slowly climbing the list of locations for the best hiking in Europe, and HIGHLANDER might have helped. HIGHLANDER Velebit Croatia takes you on an adventure through two National Parks – Northern Velebit and Paklenica. It's the place where it all started, the original HIGHLANDER Adventure of a Lifetime. The trail is so diverse that once you've reached the finish, you will feel like it led you through 10 different countries. Only it didn't. You'll start in the mountains, finish at the seaside. HIGHLANDER will take you on a 100 km long journey from Zavižan to Paklenica. On HIGHLANDER55 you will hike 48 km on the Premužić trail, entirely made by man, but in such a way that it blends into the natural environment seamlessly – a true architectural marvel and finish in Baške Oštarije. HIGHLANDEREXPERIENCE will allow you to experience the HIGHLANDER spirit by hiking 30 km on Velebit and bivouacking under the starry Croatian sky. From Velebit mountain tops to the shores of the Adriatic sea, you will be exposed to a life-changing experience, you will have the adventure of a lifetime, and discover Croatia as one of the best destinations for hiking in Europe.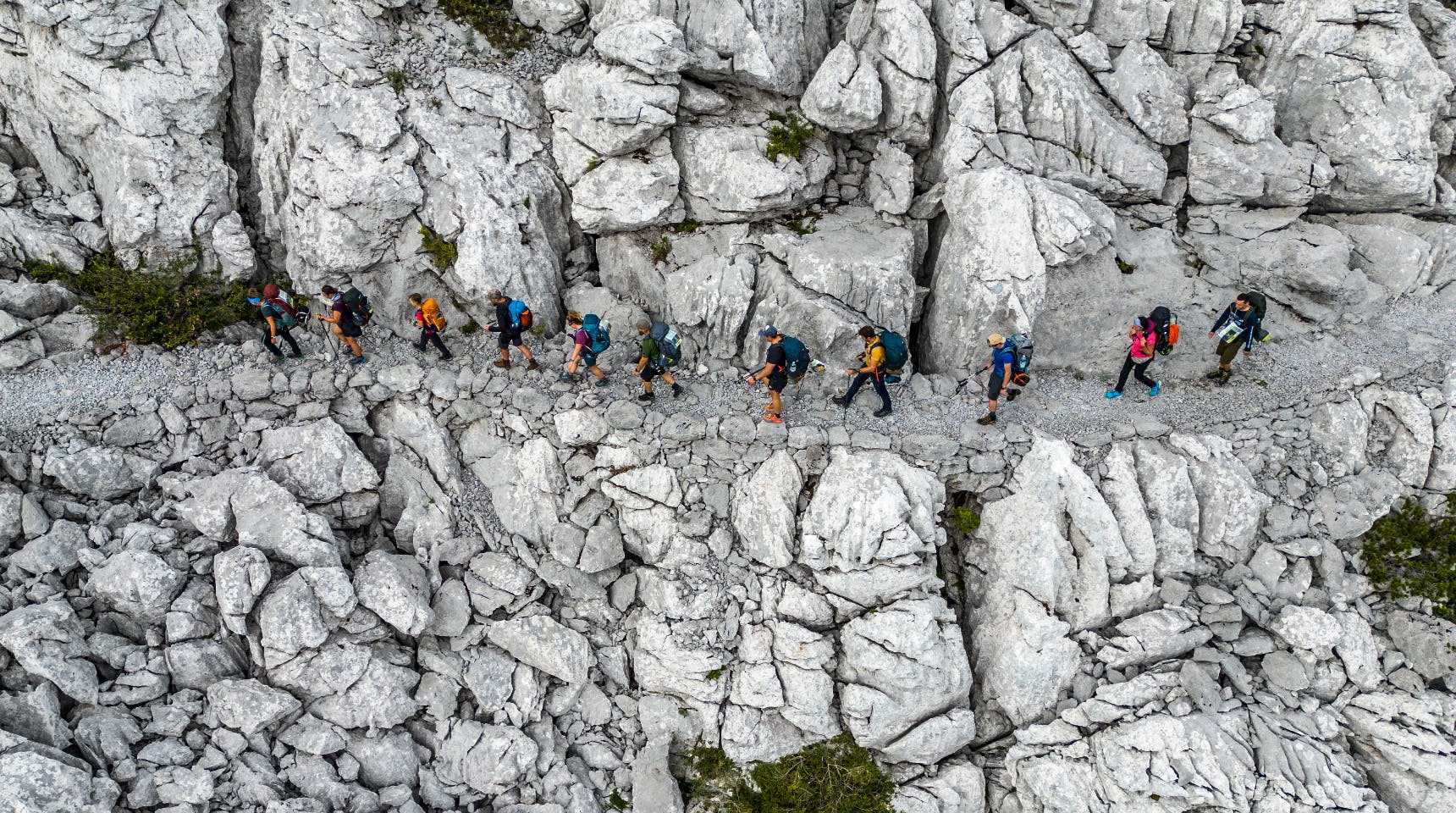 Hiking in Greece
HIGHLANDER Mt. Olympus Greece is a 90 km long hiking experience that leads you through the breathtaking trails of Mount Olympus, the mountain of Gods, the world's most famous mythical place. Historical Mount Olympus, home of the 12 Greek Gods of mythology, offers a magical, and diverse terrain that's ideal for a hiking adventure. It measures 500 square kilometers, in a circular area with a circumference of 80 km, with 52 peaks and several deep gorges, it contains 32 species of mammals, 108 species of birds, many species of reptiles, amphibians, and insects. Experience an alternative Greece and look at the Aegean Sea in a new way. Become part of the Greek Mythology by glancing upon Zeus' Throne and exploring his hideouts and ancient paths. Words cannot describe what you will experience. Picture-perfect Greece and its untouched nature, like-minded hikers and nature lovers, sheer enjoyment, and the feeling of living life to the full. HIGHLANDER adventure will show you exactly why Greece and Mount Olymp are one of the best destinations for hiking in Europe. With more than 6,300 m of cumulative ascent, the HIGHLANDER Mt.Olympus trail will require not only that you conquer the mountain, but yourself as well, in an adventure of a lifetime.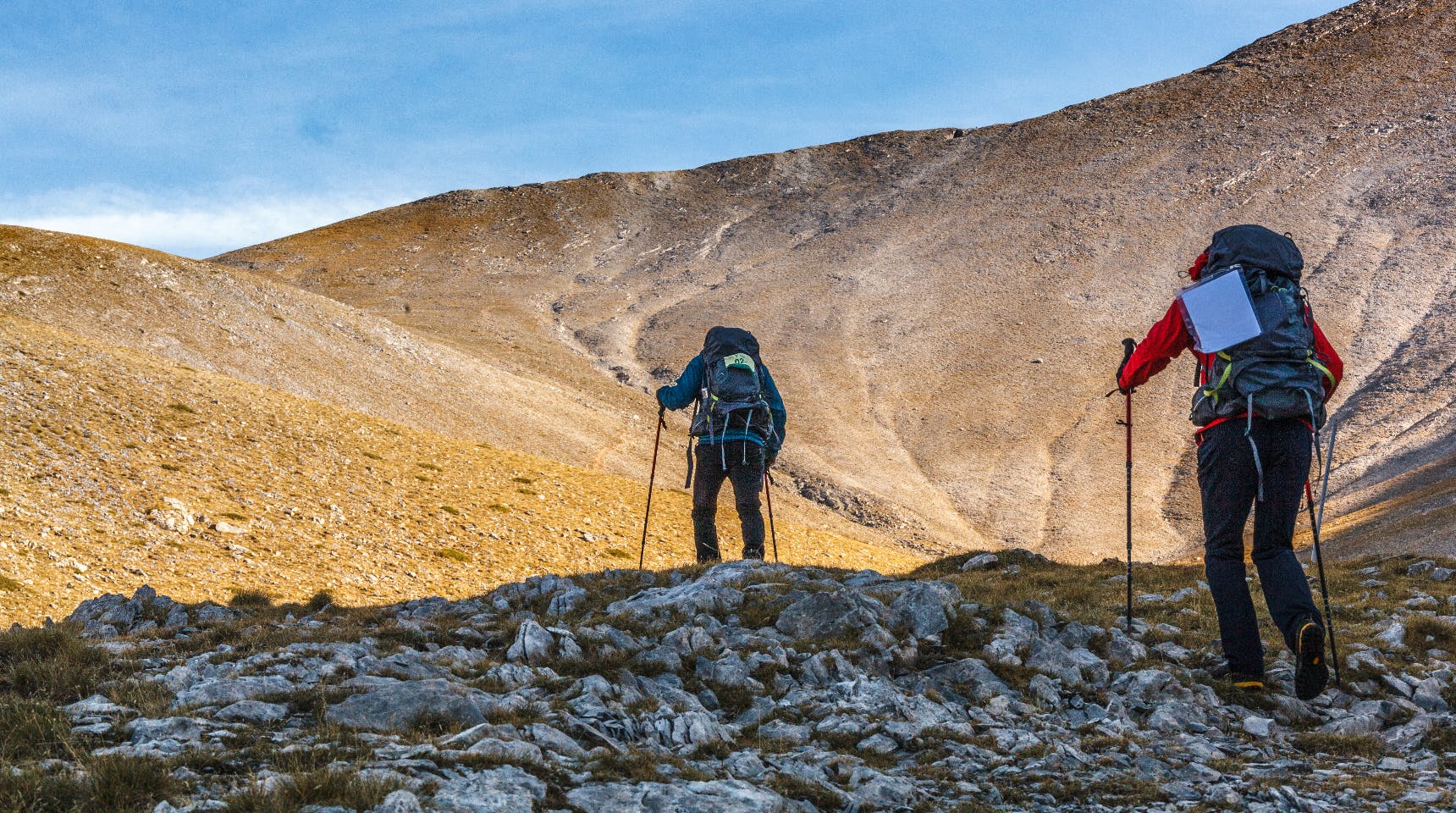 Hiking in Spain
When talking about hiking in Europe, we must mention Spain. HIGHLANDER Duero-Douro Spain takes you on an adventure through the Nature Park Arribes del Duero, a protected natural area in the Arribes region, bordering Portugal. A privileged natural area with amazing landscapes, waterfalls, a scenic railway line, and rich and varied fauna and flora. Both HIGHLANDER and HIGHLANDEREXPERIENCE start at Aldeadávila de la Ribera - a flat walk between farmland and beautiful natural areas created by the action of the Douro River. HIGHLANDER 102 km route shows you places like Picon de Felipe, one of the most incredible views of all Arribes, Corazón de los Arribes and the valley of the Arroyo Ropinal, Camino de los Fermines, Vilvestre, Hinojosa de Duero, the beautiful region of Salamanca and many more before finishing at Vega Terrón river dock . HIGHLANDEREXPERIENCE's 46 km long route finishes at Saucelle. Both HIGHLANDER and HIGHLANDEREXPERIENCE routes are a part of the GR-14 Trail. HIGHLANDER Duero-Douro Spain's hiking trails will lead you to the greatest adventure of a lifetime in a privileged natural area, pure nature will reveal Spain as one of the best destinations for hiking in Europe!
And with that, our list of 10 best destinations for hiking in Europe on HIGHLANDER Adventure is concluded. Although Tour of Mont Blanc is not on the list, there are some real gems you maybe never even considered while planning your next long-distance hiking in Europe. We hope to see you on our hiking adventure(s) in Europe or Adventures of a Lifetime we have in Africa & the Middle East, among which one gives you a unique opportunity to hike a World Heritage Site Wadi Al-Hitan.